Fool moon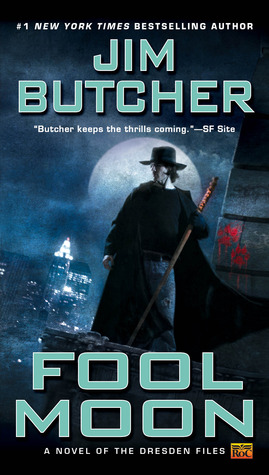 Autore: Jim Butcher
Formato: Digitale
Lingua: Inglese
Prezzo: € 5,65
Pagine versione cartacea: 369
Data di pubblicazione: 2001
Saga: Dresden Files
Storm front (2000)
Fool moon (2001)
Grave peril (2001)
Summer Knight (2002)
Death masks (2003)
Blood rites (2004)
Dead beat (2005)
Proven guilty (2006)
White night (2007)
Small favour (2008)
Turn coat (2009)
Changes (2010)
Ghost story (2011)
Cold days (2012)
Skin game  (2014)
Peace talks (2016)
Mirror, mirror (—-)
Ho ripreso questa saga dopo cinque anni dalla lettura del primo volume, Storm front, e dopo aver letto nel frattempo una graphic novel legata alla serie (Welcome to the jungle) e un paio di racconti di Dresden inclusi in alcune raccolte (Mean streets e Songs of love and death).
Un libro tutta azione, con un buon ritmo e che tiene sempre viva l'attenzione.
Farcito con licantropi di tutti i tipi: maledetti, magici, artificiali, misteriosi. Licantropi che sono come devono essere: feroci, istintivi, violenti, spaventosi.
E ad affrontarli abbiamo un Dresden a pezzi dopo il primo libro, ai ferri corti con la polizia (che era la sua fonte di sostentamento primaria) e con Murphy, incapace di decidere qualsiasi cosa riguardo a Susan o anche solo di fare i conti col proprio passato.
Dovrà indagare su degli omicidi efferati e bestiali, senza risultare ufficialmente, per salvare il posto di Murphy ed evitare la prigione, destreggiandosi tra boss e bande criminali, polizia ed fbi, e più licantropi di quanti ne possano stare a Chicago.
Niente di epocale, ma un buonissimo secondo libro per questa serie, che scorre via agilmente senza mai annoiare.
Non c'è ancora nessun commento.
Informativa per i lettori

Nel rispetto del provvedimento emanato, in data 8 maggio 2014, dal garante per la protezione dei dati personali, si avvisano i lettori che questo sito si serve dei cookie per fornire servizi e per effettuare analisi statistiche completamente anonime. Pertanto proseguendo con la navigazione si presta il consenso all' uso dei cookie. Per un maggiore approfondimento leggere la sezione Cookie Policy nel menu, oppure leggere la Privacy Policy di Automattic.

leggi qui

Sto leggendo…

Goodreads

Purtroppo i widget Goodreads-Wordpress funzionano maluccio, quindi ecco i link:

Ultimi post

Commenti recenti

Altro

Amici

Autori

Blog sui libri

Blogroll

Inter

New Wave Novellers

Webcomics

Archivi
Categorie

Post più letti

Statistiche

Segui il blog con i feeds RSS