Perle dal web (9-2011)
Eccoci anche questa settimana alla rubrica del martedì, dove segnalerò articoli interessati scovati nell'ultima settimana in rete. Una mia personale rassegna di articoli presi da blog amici o nei quali sono comunque incappato casualmente in rete.
Perché certi post meritano di essere fatti circolare!

Per il momento settimanale della scienza, ecco un'interessante notizia di zoologia. Che qui capita a puntino, dato che fa pensare a un certo libro in cui una certa razza di insetti era in guerra con una certa federazione.
Infatti è saltato fuori che c'è una specie di scarafaggio, l'Epomis, che oltre alla sua solita dieta si trastulla con l'attaccare, paralizzare e divorare gli anfibi.
Rana contro scarafaggio. Vittoria dello scarafaggio.
Tremendo! Fa quasi pensare a una certa fanteria…
Uriel sul suo blog fa un'interessantissima disanima del perché sia inutile confrontare la situazione attuale della Rete Italiana con quella degli altri paesi: come mai da noi i costi per un'adsl sono questi e abbiamo questo in cambio, e in Germania pagano tot per avere x,y e z? E in America poi ancora diverso… davvero un bel post sulle differenze nella storia di queste infrastrutture, che penso sia comprensibile anche ai non addetti ai lavori.
(E si, lo avessi letto un paio di anni fa mi avrebbe detto più quel post della maggior parte delle lezioni universitarie… ah, le gioie dell'università che ti forma alla perfezione…)
 è
Con un brevissimo comunicato sul vecchio sito del 2010, è stata data l'ufficialità alla durata di Lucca Comics and Games 2011.
Ben cinque giorni, da venerdì 28 ottobre a martedì primo novembre.
Cinque giorni di cui tre in cui non sarò al lavoro. Pancia mia…
Comincia il count down!
Mercoledì Fed ci ha ricordato, tramite il suo blog, del Towel Day di Douglassiana memoria.
E se non sapete cosa sia un Towel Day, o perché l'asciugamano sia l'elemento fondamentale da portarsi dietro durante un viaggio in autostop, seguite il link e leggetevi il post!
Sapevo di chi passa parecchio tempo a giocare ai mmorpg per poi vendere in RL oggetti, crediti o quant altro faticosamente conquistato nel mondo virtuale. Anche Sheldon Cooper l'ha fatto, nell'indimenticabile episodio contenente la celebre frase I am the sword master!
Quello che mi mancava, però, era che la stessa cosa la facesse il governo cinese.Usando i detenuti.
Diabolicamente geniale, lo devo ammettere.
Un mesetto fa vi avevo parlato di questo post, in cui venivano denunciati errori grossolani e in quantità industriale nella traduzione italiana di Soulless. Beh, nell'ultima settimana Weirde ha postato un update, annunciando che l'editore in questione ha risposto al suo post scusandosi per gli errori, riconoscendo di aver sbagliato e ringraziando la blogger per averli bacchettati.
Che dire, tanto di cappello alla BCD e a Weirde!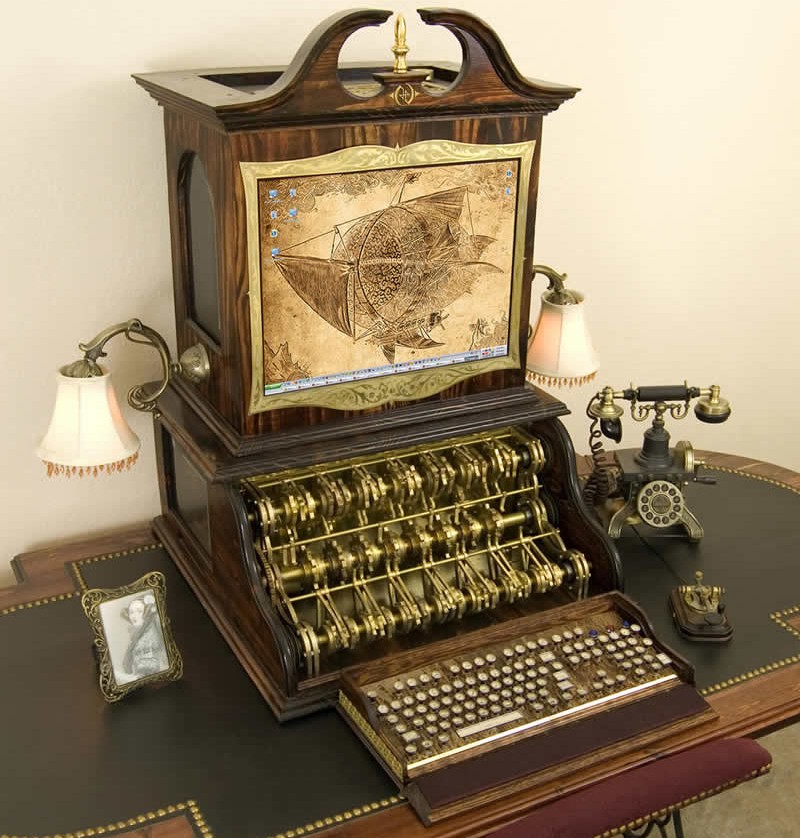 Infine, segnalazione sul versante steampunk.
Tempo fa avevo parlato di una guida che spiegava il genere… ora invece vi mando sull'ultimo post del Duca, dove parla ampiamente dello steampunk e delle sue origini.  E ci sono i collegamenti a sei dei sette (per ora) interventi telefonici del Duca al programma Carta Vetrata. Interventi che vertono sullo steampunk, ovviamente. Anzi, sul vaporteppa!
5 commenti »
La rana e lo scarafaggio?

Mi ricorda una certa storia-canzone, solo che lì era uno scorpione…

Ogni favola di Esopo ha il suo fondo di verità…

Commento di Francesca | 31 maggio 2011

Happy towel day! :D

Commento di Camilla P. | 31 maggio 2011

@ Francesca: già! Ma lì lo scorpione si abbandonava alla propria natura pungendo il (mi sembra) cane e annegando pure lui, qui invece abbiamo un adorabile scarafaggio killer pronto a iniziare la guerra tra insetti e animali!
Fanteria Spaziale!!!

Commento di tanabrus | 31 maggio 2011

@ Camilla: Happy Late Towel Day anche a te :D

Commento di tanabrus | 31 maggio 2011

cane, rana, cigno… quante volte sarà cambiata la vittima? xDD

Commento di Francesca | 1 giugno 2011
Sto leggendo…

Goodreads

Purtroppo i widget Goodreads-Wordpress funzionano maluccio, quindi ecco i link:

Ultimi post

Commenti recenti

Altro

Amici

Autori

Blog sui libri

Blogroll

Inter

New Wave Novellers

Webcomics

Archivi
Categorie

Post più letti

Statistiche

Segui il blog con i feeds RSS